------ edited to announce the first prize winners....see who they are in the comments section below this post........CONGRATULATIONS!  Still a few more giveaways to come......so make sure you leave your name and country if you are visiting

Let's have some fun on here leading up to the Olympic Games! 
                    We want to see how far around the world we can go....
We know we've got heaps of readers from Aussie and NZ. Hi everyone! We know we've got a few from the USA Good day to you! And even some from Europe G'day! We know we also have some Canadian followers....hello to you as well!
But what we'd like to do is just see for real how many different countries we can get along here.
So here's the deal. Email all your friends and/or put a post on your blog. Giving people this post link and say 'go leave a comment with your name and country plus my name and country'.
Then what we're going to do is then give out random prizes to both you and your friend for just doing that. Leaving us a comment. Sound easy....it shall be our own Olympic Blog Game....
Let's spread the FISKARS love far and wide...............on your marks....get ready.....SET .....GO!!!!!!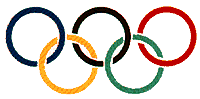 What do the Olympic rings signify?

According to most accounts, the rings were adopted by Baron Pierre de Coubertin (founder of the modern Olympic Movement) in 1913 after he saw a similar design on an artifact from ancient Greece.  The five rings represent the five major regions of the world: Africa, the Americas, Asia, Europe, and Oceania. Every national flag in the world includes at least one of the five colors, which are (from left to right) blue, yellow, black, green, and red.  It is important to emphasize that Pierre de Coubertin never said nor wrote that the colors of the rings were linked with the different continents

The Olympic Flag made its debut at the 1920 Olympic Games in Antwerp, Belgium. At the end of each Olympic Games, the mayor of that host-city presents the flag to the mayor of the next host-city. It then rests at the town hall of the next host-city for four years until the Opening Ceremony of their Olympic Games.

 
 Can't wait to see how far around the World we go.......start spreading the word...and did you know we have a few new buttons on the bottom of each post.....makes it easy to reblog,Pin or FB....so LET'S start travelling...............................woohoo..................off we go....where to first....flying into cyberspace

xoxo
Lyn Dwyer